The Saskatchewan Roughriders have several issues to address this week — a complicating factor being a mere five-day gap between road games.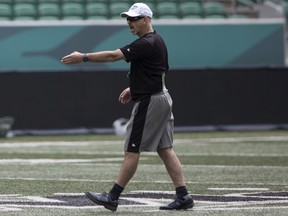 Article content
Rare is the occasion when a team is left reeling after a victory.
Article content
Such was the state of the Saskatchewan Roughriders on Saturday, when they improved their record to 2-0 by outlasting the Edmonton Elks 26-16 at Commonwealth Stadium.
Although the desired result was achieved, it was at the expense of veteran centre Dan Clark, whose right leg was seriously injured on Saskatchewan's final play from scrimmage.
"It's heartbreaking," left guard Logan Ferland reflected. "It didn't even feel like a win. That's all you're thinking about at the end."
Clark tweeted on Monday that "I broke my fibula and shifted my ankle bone." He added that a surgical procedure, which he underwent Sunday afternoon, "went very well."
That's the good news. The bad news: One of the Roughriders' core players will be sidelined for an extended period.
Adding to the adversity facing the Green and White this week, the team was able to conduct only one full practice before hitting the friendly skies. The Roughriders are to play the Montreal Alouettes on Thursday at Percival Molson Stadium.
Two road games within five games is an example of absurd scheduling, although it used to be worse.
Into the mid-1970s, the Roughriders customarily played two games in short order while taking a partial swing through the Eastern Conference.
In 1975, for example, Saskatchewan played in Montreal on July 29 and visited the Toronto Argonauts on Aug. 1. The following year, the Roughriders hit the road to face the Ottawa Rough Riders (Aug. 3) and Hamilton Tiger-Cats (Aug. 7).
Article content
And here's the astonishing thing: Saskatchewan won all four of those games!
After 1976, the CFL discontinued the bang-bang interlocking games, but we still see cases where the schedule-makers create challenging situations.
"It's going to be extremely difficult," Saskatchewan quarterback Cody Fajardo said. "This will be a test to see where we're at as a team — a good measuring stick to see where we are mentally.
"Not only do you have to be physically strong to play a game on Saturday and then turn around and play on Thursday, but you also have to be strong mentally to be able to put in new plays that you'll never get to rep.
"In practice (on Tuesday), I think we had 32 or 36 live reps. When you carry 150 to 200 plays into a game, you don't get reps on everything, so there might be a little bit of trying to figure it out.
"But the thing is, in the first week and the second week, we've had to do a lot of adjustment on the sideline. I think we've been a really good second-half team and we're going to have to do that in this game as well."
There is the accompanying imperative of reducing penalties.
Offensive tackles Na'Ty Rodgers and Terran Vaughn were assessed a combined four holding penalties on Saturday. Rodgers erupted for a hat trick.
Continuing with hockey parlance: After being issued five misconducts in Edmonton, it is reasonable to wonder whether the Roughriders aspire to win the Grey Cup or the Stanley Cup.
"We're not going to go where we want to if we can't control ourselves," head coach Craig Dickenson said. "Mentally, we've got to be a lot tougher."
Especially when the grind of this week is about as tough as it gets.
The sports world is ever-changing, as are the times. Supplement your steady diet of sports coverage by subscribing to the Regina Leader-Post's 306 Sports Fix newsletter. Each week, sports editor Rob Vanstone will provide additional commentary on the Roughriders, Pats and other teams/sports of interest, along with a peek behind the curtain. Click here to subscribe.