Interim Conservative leader Candice Bergen blasted the Liberals for using such a tragedy for their own 'political gain'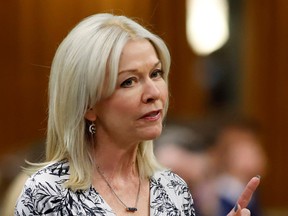 Article content
Interim Conservative leader Candice Bergen is calling for a "full investigation" to shine the light on allegations of political interference that might have led to RCMP Commissioner Brenda Lucki acting on the orders of the Liberals in the wake of the 2020 mass shooting in Nova Scotia.
Article content
Speaking to reporters on Wednesday, Bergen said she believes superintendent Campbell's version of events, and blasted the Liberals for using such a tragedy for their own "political gain."
"The Prime Minister has a habit of doing this: using people, using his influence for his own political gain and interfering in criminal investigations and, in this case, an investigation into the biggest mass killing in Canadian history," she said.
"Right now they are denying wrongdoing. This is a pattern. This is what this Prime Minister does. You will recall with SNC-Lavalin."
Minister of Emergency Preparedness Bill Blair, who was serving as Minister of Public Safety at the time of the mass shooting, said that he was routinely briefed by the commissioner and her staff on the ongoing events in Nova Scotia, but reiterated there was no interference.
Article content
"I'm just advising you and I'm advising Canadians through you that there was no interference in this case, there was no pressure placed upon the RCMP, no interference with their operational decisions," he told reporters before going into the caucus meeting on Wednesday morning.
He also said he still had faith in Lucki as RCMP Commissioner, adding that "she has a very difficult and challenging job."
In the immediate future, the federal Conservatives will be calling for an "emergency debate" on the matter in the House of Commons on Wednesday, said Tory House leader John Brassard, as well as debates on the "passport fiasco" and the "inflationary crisis" going on.
"We feel that we now need to use what limited time we have in this House in this session of Parliament to deal with issues of the day, not issues that we think are going to happen in the fall as it relates to the extension of hybrid parliament," he said.
More details to come.